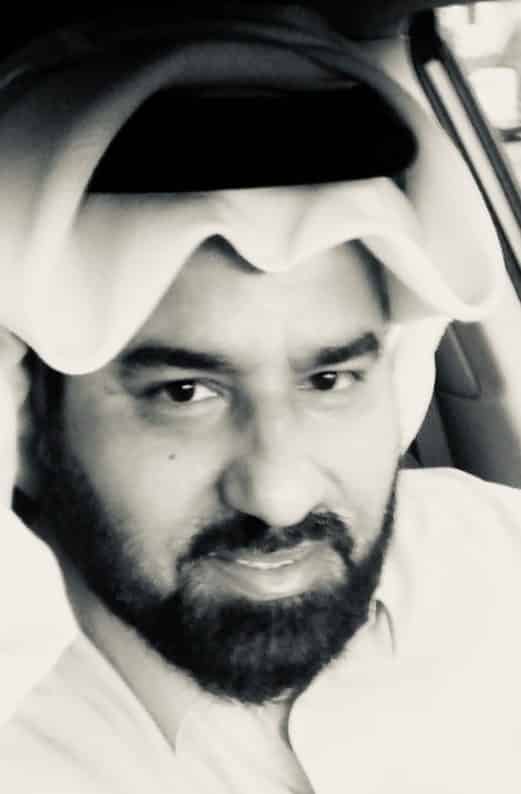 Abdullah Al-Salem, as I want
I'm Abdulla Al-Salem, who is a man that likes literature, children, films, women, music and God.
I sketch the planet in its precise details on a small petal of sunflower, but I'm just lounging around to fetch only two loaves of bread from the neighboring shop, what is the problem of the rusk? It's fine.
 Husband and father as our people say imitating the Western tradition, what does a husband and a father mean? We may understand that the man is married, but not a father because he hasn't been granted a son. Maybe he is still in the Honeymoon, but what does it mean to be a father and a single?
This is perceived in some different remote cultures, such as Western culture, where the parents have given birth to a dozen children, but they still think about marriage, and sometimes they never think.
As for in our Islamic and Arab culture, any emphasis on this description is sort of foolishness.
"Husband and father! Really!" How sweet of you saying about yourself: "I'm a single father!". As if you are saying blatantly about your children: "They are the fruit of adultery!
Anyway…
My best Football team is Barcelona, the best old lucid poet is Al-Mutanabbi and the best modern poet is Jassim As-Sahih, the best actor is Anthony Hopkins and Tarek Al-Aali, oh… no… no… the last is only a heavy joke.
I started writing Nabatean poetry since I was nine years old, and I was reciting my poems on my father, which were all amorous poems, and I didn't understand the secret of his constant laughter, while I was reciting, my poems with utmost seriousness.
Later, I realized that the reason for his laughing was the glaring contradiction between the themes of the poems about antipathy, separation, and insomnia and my brown teeth that have just fallen.
I established my blog in 2005, which is my safe sanctuary, whenever Editors refrain from publishing my writings.
I'm a post graduate student at the University of Jordan, specialized in Family law.
Abdulla Al-Salem, as they want me to be
I'm Abdullah Al-Salem: a poet, critic, and blogger from Qatar. A critique book was issued for me, entitled: The defects of poetry, a critical study in Modern Nabatean poem construction, and I have plans to release other books in diversified fields, such as novel , Freewriting, a collection of literary essays and articles.
I wrote and published in Local and Arab newspapers and magazines such as: Al-Sharq, Al-Watan, Al-Raya, and Brooq magazine, all in Qatar.
Al-Ghad newspaper in Jordan, Fawasil magazine in Saudi Arabia.
I participated in several festivals, and literature forums in Qatar, Saudi Arabia, United Arab Emirates, Oman, Iraq, Egypt, Jordan, Palestine, Morocco, and France.
Social Media
To communicate through various social media, choose what is more suitable for you out of the below.
Or just email me directly: